A gluten-free, soy free..(well pretty much everything free) tortilla that DOESN'T break when you load it up? You're joking right? Food for Life literally just made my whole entire year with their amazing Brown Rice Tortillas! I had my first burrito in over 3 and a half years a few days ago and actually screamed/jumped up and down on the couch like a 5 year old overloaded on sugar. A big thanks to my local Whole Foods Market for stocking this item! To my surprise, Food for Life just keeps making them softer, even more durable, and delicious.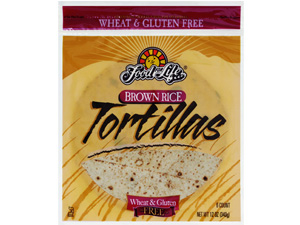 I loaded my soft fold-able tortilla with: *(Note: The Rice Cheese contains a small bit of Casein milk protein. There are other options in the website I linked to if you're casein sensitive).
Taco Meat made with Grass-fed Ground Beef (seasoned with Salt, Cracked Black Pepper, Cumin, Chili Powder, Red pepper flakes, Cayenne Pepper, and Garlic Powder).
Chopped/lightly sauteed white onions
Spicy Guacamole
*Super melted Soy Free, Gluten Free Rice Cheese
A bit of Allergen Free Salad Dressing/Vinaigrette
Green lettuce leaves
Fresh Tomatoes, diced (optional).
I am way excited about this discovery and will probably be eating burritos for a month straight.
Yan's Russian chop salad went perfectly with these hearty Burritos.
Do you have a favorite gluten free or allergen free tortilla that holds up for even making burritos?
~~~~~~~~~~~~~~~~~~~~~~~~~~~~~~